Automotive Nets offer valuable light-weight storage solutions. From Seat back Nets to Net Pockets, to Tunnel Nets and Trunk Cargo Nets, the Automotive industry uses a wide variety of solutions to provide functional and secure storage space for the final consumer.

Nets come in all forms, shapes and colors depending on the position of the storage space and customer specifications.

---
---
At Polydesign, our Net Assembly operation is entirely vertically integrated. Our Injection molding Business Unit produces plastic frames, hooks and fasteners; our Netting BU knits, weaves and braids Nets, web straps, and bungee cord. The Net Assembly BU then receives all those components, where the assembly begins.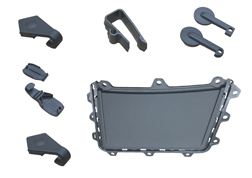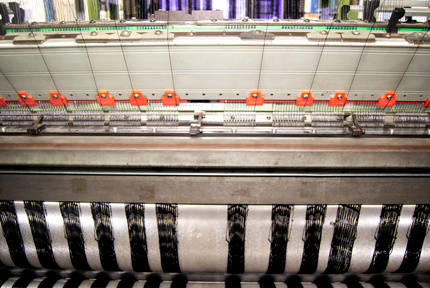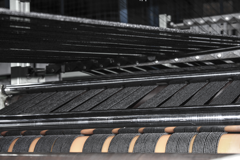 ---
---
In an age where automation is often the answer to many manufacturing challenges, and while many automated solutions exist and are used at Polydesign, we will focus in this blog post on Manual Net Assembly, the human craftsmanship and the high level of skill and care that automation cannot replicate.
1- Sewing: The sewing process is vital, as its quality will impact the strength, durability, and appearance of the finished product. By using industrial machines, Polydesigners sew our Nets with a variety of stitch types (zigzag, single and double needle, bar tack,…). According to our Sewing experts, maintaining a parallel loop distribution is one of the most challenging elements of sewing this automotive interior component.
2- Assembly: Automotive Nets are complex parts involving many components such as Wire, Bungee, Web Strap, Plastic Frames, Plastic or Metal hooks, snaps, Velcro, etc. Using special fixing tools and hardware, our workers execute flawless assemblies. This process requires precise measurements and placement to ensure that the Net is durable and ready to be mounted in the vehicle.

---
Automotive nets manufacturing involves intricate and precise steps. It requires high accuracy levels, attention to detail, and experience. At Polydesign, we have been supplying, for 20+ years, storage and cargo Nets solutions for Heavy-duty commercial vehicles, luxury cars, and EVs to most OEMs and Tier Ones.
Article By:
Hicham Afallah  
Business Unit Manager 
Net Assembly